What a beautiful day it is today!   We try to plant carrots and summer type radishes together in one planting, usually in a block as opposed to a row.  If we do plant them in a row, it's a row about 1 foot wide.   The radish help loosen the soil for the carrots to emerge easier.  This is how we do it.
Work an area of ground so that the soil is loose and fluffy.

Remove 1/2 inch of dirt from the area we are going to plant in.

Sprinkle the carrot seeds on that area 1 to 2 inches apart.

Cover the area you just broadcasted with carrot seeds with 1/4 " of dirt.

Sprinkle the radish seeds on top of the area spacing 1 to 2 inches apart.

Cover the area with the other 1/4″ of dirt.  The radish will spout in 2 or 3 days and will contiually loosen the soil as they grow making it easier for the carrots to grow.

Harvest the radish gently when they get to the size you desire.  Usually 18 – 30 days until harvest.

After all the radish are gone from the bed, you can leave the bed alone, don't replant your radish, and let your carrots mature on their own.  Harvest the carrots when they reach the size you want.  Usually 50 – 80 days until harvest depending on the variety.

Or you can carefully replant your radish by poking your finger in the ground 1/4″ deep where  there are free spots available between the carrots, inserting a seed in each hole and covering the hole lightly with soil.  Harvest the radish and carrots when they reach the size you desire.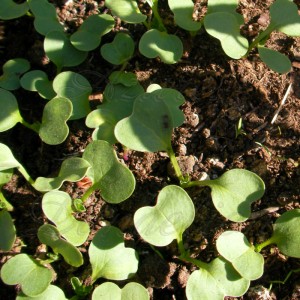 The Purple Plum Radish are coming along nicely.  The Cosmic Purple carrot that we planted with them have broken through the earth with their first two leaves.